Skutt Automatic Kiln, Model: KM-1231PK
--Cone 10, max temperature 2350 F
--240 volts
--3 Phase
--17,300 watts
--Depth interior: 31"
--Diameter interior: 28"
--Skutt Envirovent attached to the bottom of the kiln—pulls air through the kiln during firing, vents outside
We fired the kiln about 90 times (bisque and cone 10). We changed the elements at about 80 firings (We haven't come across the kiln log yet as we excavate our storage unit, so we don't have exact numbers.) We also replaced the motherboard to the kiln's computer.
Skutt Automatic Kiln, Model: KM-1231PK --
$1,200. or best offer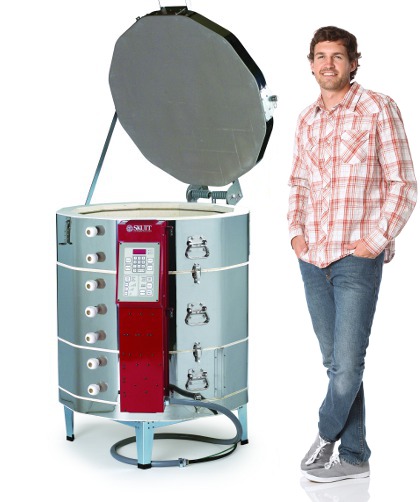 This equipment worked wonderfully well for us. We hope that someone else will have a use for it.

MUST SELL!!!!
We are leaving Asheville at the end of the week—if you decide to buy, you must be able to take it from our storage unit before we go—by Thursday Aug. 27th at the latest.
We also have 15 kiln shelves and numerous posts, as well as some glaze chemicals.
Contact Deborah DeSaix/George Inge at 520-447-9005 or 520-665-8210